New Raspberry PI 5 released: the Computer Board Announced
Last Updated on 28th October 2023 by peppe8o
Great news for the Raspberry PI computer board lovers. In a period where no announcements or even rumours have been circulated on any website or social, a new Raspberry PI announcement moved the attention of the makers community: the new Raspberry PI 5 has been released.
Skipping to focus on the community's enthusiasm, let's look at its specs and what changed. In this post, I will also compare the new Raspberry PI 5 with the previous Raspberry PI 4 (launched in 2019).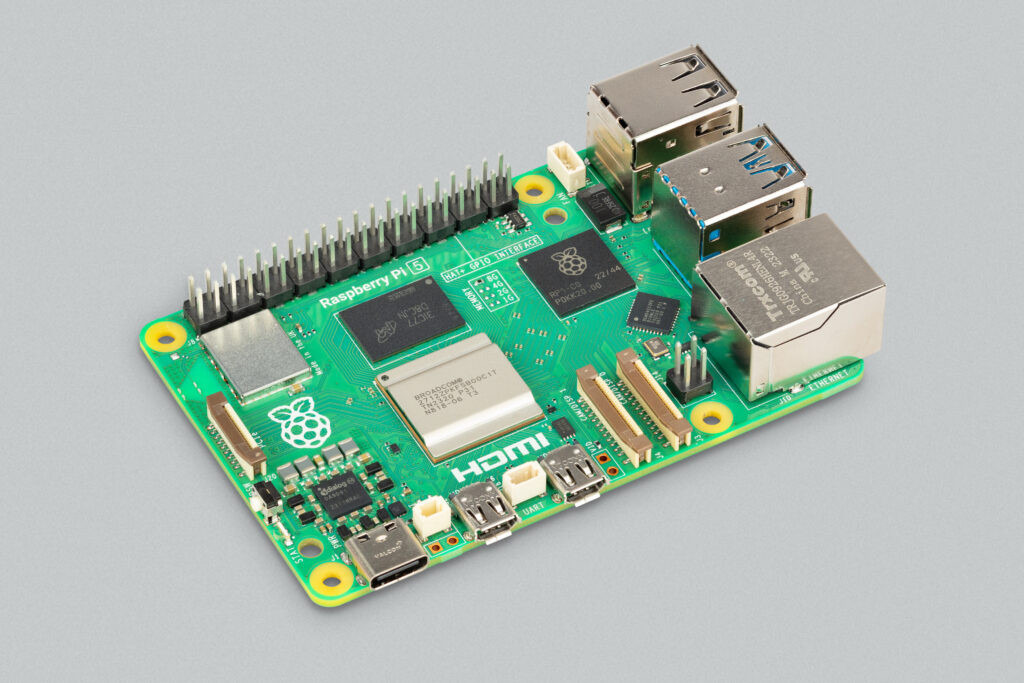 Raspberry PI 5 Specs
The following list resumes what is included in the Raspberry PI 5 computer board:
Broadcom BCM2712 2.4GHz quad-core 64-bit Arm Cortex-A76 CPU, with cryptography extensions, 512KB per-core L2 caches and a 2MB shared L3 cache
VideoCore VII GPU, supporting OpenGL ES 3.1, Vulkan 1.2
Dual 4Kp60 HDMI® display output with HDR support
4Kp60 HEVC decoder
LPDDR4X-4267 SDRAM (4GB and 8GB SKUs available at launch)
Dual-band 802.11ac Wi-Fi®
Bluetooth 5.0 / Bluetooth Low Energy (BLE)
microSD card slot, with support for high-speed SDR104 mode
2 × USB 3.0 ports, supporting simultaneous 5Gbps operation
2 × USB 2.0 ports
Gigabit Ethernet, with PoE+ support (requires separate PoE+ HAT)
2 × 4-lane MIPI camera/display transceivers
PCIe 2.0 x1 interface for fast peripherals (requires separate M.2 HAT or other adapter)
5V/5A DC power via USB-C, with Power Delivery support
Raspberry Pi standard 40-pin header
Real-time clock (RTC), powered by an external battery
Power button
Physical Specs
The two boards have the same form factor: 85×56 mm (excluding the space for the external ports). Also, the board holes are placed with the same physical factors: 58 mm centre-to-centre spacing at the horizontal axis, 49 mm centre-to-centre at the vertical axis, and 2.7 mm for the hole diameter.
From the following pictures, you can already look at the very first difference: the Ethernet port moves from the upper side to the lower side. This means that the old cases for Raspberry PI 4 hardly will fit with the new board. So, please take care when selecting a case for your Raspberry PI 5, in order to avoid getting a case for the old board.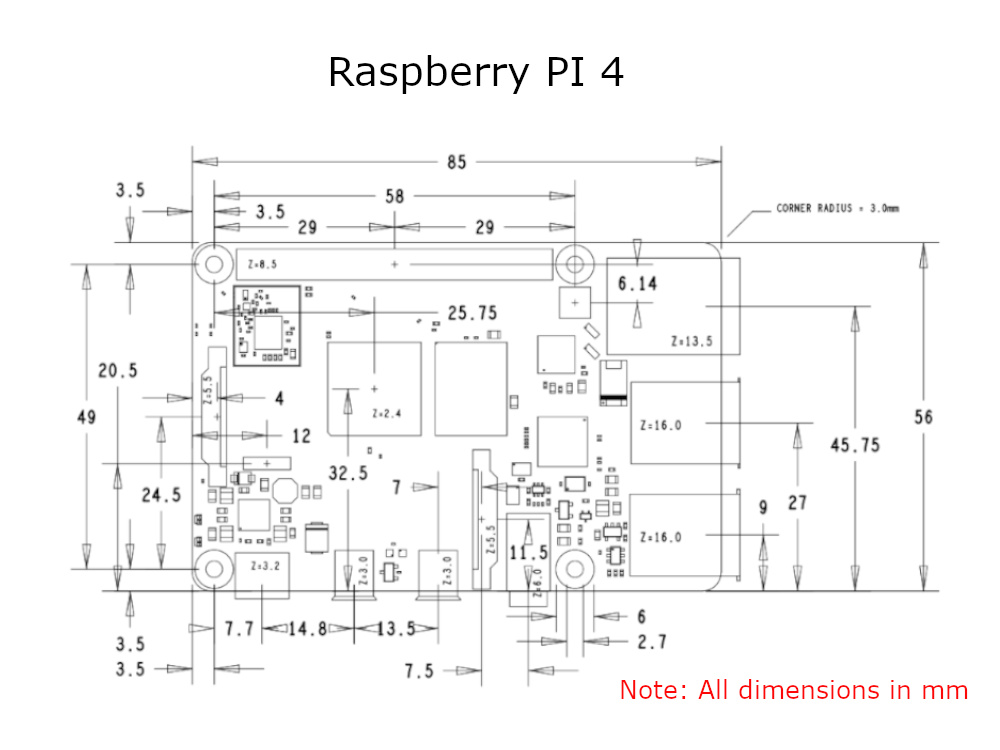 The BCM2712 Broadcom Board: at the base of Raspberry PI 5
If you look just at the model number of the new Broadcom board, it may appear that there should be only a few differences compared to the Raspberry PI 4. But a careful analysis will show that there are significant improvements in the new BCM2712 board compared with the "old" BCM2711.
The following table compares the 2 boards:
Part number(s),
S-Spec
BCM2712
(Raspberry PI 5)
BCM2711
(Raspberry PI 4)
ISA
ARMv8.2-A (64-bit)
ARMv8-A (64-bit)
Microarchitecture
Cortex-A76
Cortex-A72
Lithography
16 nm
28 nm
Cores
4
4
Threads
4
4
Base frequency
1,5 GHz
1,5 GHz
High-performance cores
2,4 GHz (Turbo Frequency)
–
High performance cores
4x ARM Cortex-A76 @ 1,5 / 2,4 GHz
4x ARM Cortex-A72 @ 1,5 GHz
Cache memory
2 MB
1 MB
Max memory capacity
8 GB
8 GB
Memory types
LPDDR4X-4267 SDRAM
LPDDR4-3200 SDRAM
Max memory bandwidth
13,7 GB/s
4,4 GB/s
Max PCIe lanes
1
4
TDP
12 W
8 W
GPU integrated graphics
Broadcom VideoCore VII
Broadcom VideoCore VI
GPU execution units
4
4
GPU shading units
64
64
GPU clock
800 MHz
500 MHz
GPU FP32 floating point
51,2 GFLOPS
32 GFLOPS
Socket
SoC
SoC
Drystone MIPS
110.880 DMIPS
22.740 DMIPS
Max display resolution
2x 4K@60fps
4K@60fps
Video decoding
H.265 4K@60fps, H.264 1080p@60fps
H.265 4K@60fps, H.264 1080p@60fps
Modem
Gigabit Ethernet Broadcom BCM54213PE
10/100/1000M Gigabit Ethernet
Connectivity
USB 2.0, USB 3.0, HDMI 2.0
USB 2.0, USB 3.0, HDMI 2.0
Wi-Fi
Wi-Fi 5 802.11 ac
2.4GHz/5GHz 802.11 b/g/n/ac
Bluetooth
Bluetooth 5.0, LE
Bluetooth 4.2
Ref. https://gadgetversus.com/processor/broadcom-bcm2712-vs-broadcom-bcm2711/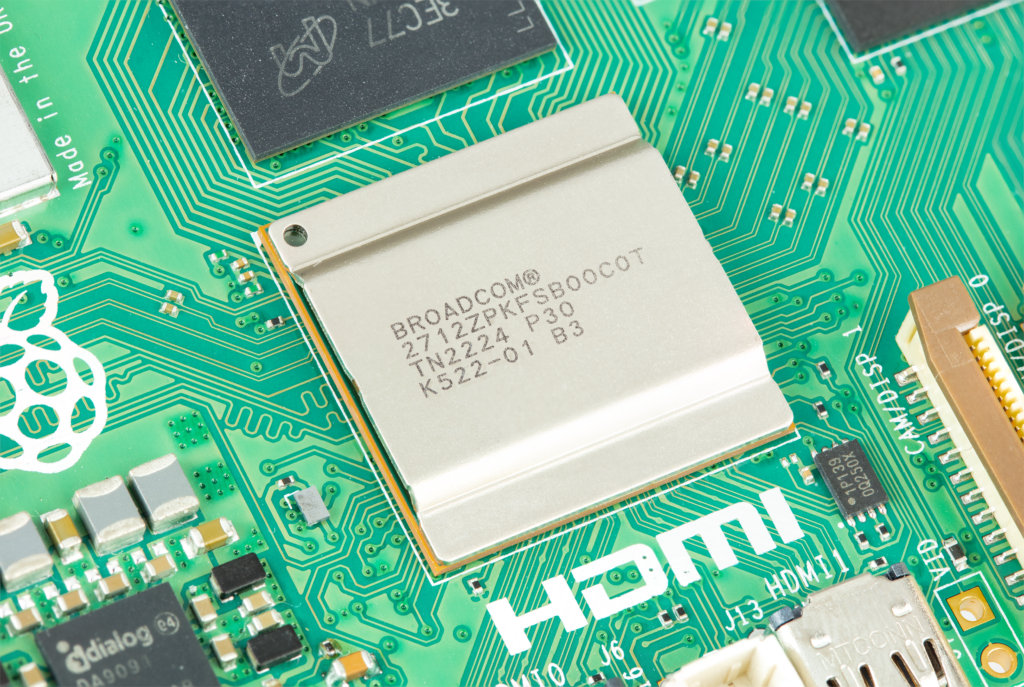 The Cortex-A76 CPU
Besides the reduced layer height of the CPU production, which never will give direct improvements to the maker's usage, the new Cortex-A76 gives a great step in terms of computational power, compared to the old Cortex-A72.
Mainly designed for mobile systems, the Cortex-A76 adds an estimated increase of 35% in performance OR a reduction of 40% in power consumption when running with the same load of the A72 model (ref. eetasia.com).
To say the truth, the Cortex-A76 seems to be capable of delivering even a 3.0GHz speed (or more), but it seems that the Raspberry PI 5 needs to limit the usage to 2.4GHz, maybe due to hardware design limitations.
From the point of view of the Cache Memory (which is the most precious memory resource for a CPU), it increased from 1MB to 2MB. Having more cache memory means having a CPU which stores more data and has a higher demand at a higher speed than the board RAM, so this is another step toward a complete Desktop computer.
The RAM Memory
The new Raspberry PI 5 just released can manage up to 8 GB of RAM. The size is the same as the old Raspberry PI 4, but what changes is having LPDDR4X-4267 SDRAM (for RPI 5) instead of the LPDDR4-3200 SDRAM (for RPI 4).
Both the RAM models are Low Power (LP) memories, able to reduce the power consumption in such installation cases where using less power may be a critical factor. LPDDR4 RAM works on 1.1V, while the LPDDR4X RAM can work on voltage levels as low as 0.6V. So, the RAM for the new Raspberry PI 5 will use a lower voltage, even if it will work at a higher transfer speed, 4.267 MT/s (Million Transfers per second) compared to the RAM of the previous RPI 4 board, 3.200 MT/s (even if the RPI was limited to an effective 2.000 MT/S). That is a 30% of performance improvement, compared to the max RAM capability and a 113% of performance increase compared to the effective capabilities of Raspberry PI 4!
From the user side, this means having more responsive programs when running on memory, so getting a better user experience, especially with Desktop Environments.
The GPU Improvements
Here there is another great improvement for the new Raspberry PI 5. The new VideoCore VII promises to extend the 4k@60fps capability from 1 to 2 streams.
From a technical point of view, this achievement comes from a graphical processor running at 800 MHz (compared to the 500 MHz of the VideoCore VI available in RPI 4), generating a capacity of 51,2 GFLOPS (instead of 32 GFLOPS). Also here we can see a 60% increase that promises to give the user more fluidity when using the Raspberry PI 5 as Desktop computer.
The GPIO Header
Even if the power of this computer board improves, there are some features which makers ask to keep unchanged. So, the header keeps its classic 40-pin GPIO with the same configuration as in Raspberry PI Zero Pinout.
Compared to the tradition of Raspberry PI computer boards, where you had to power off the board from the desktop or from the console, the new board now brings a power on/power off button. It is a great change for people new to Raspberry PI computer boards, who are looking from the very first approach to the place where to shut down their computer!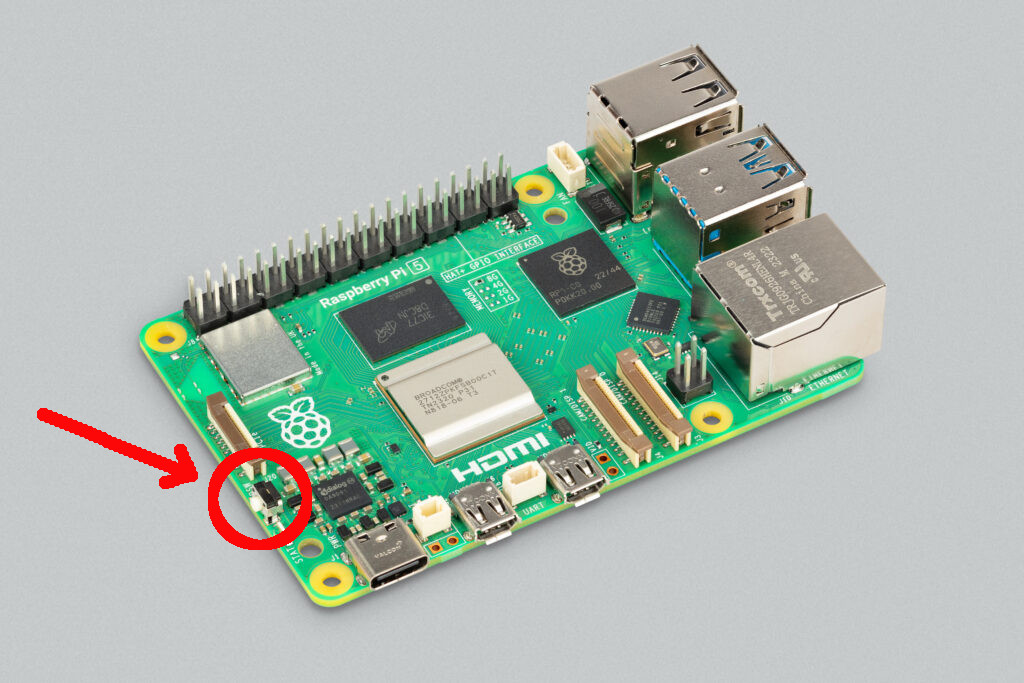 Design updates
There are many additional changes that make this new board quite "revolutionary" compared to the previous one. These changes brought to an overall rearrangement of the parts on the new Raspberry PI 5 computer board.
The RPI 5 doesn't include the old audio jack. Instead of it, there is a pair of 0.1"-spaced pads on the bottom edge of the board. You will need to solder your audio jack wires to these pads if strictly needed.
In the place of the audio jack, a pair of FPC connectors is now available. These interfaces will allow you to connect either a CSI-2 camera or a DSI display.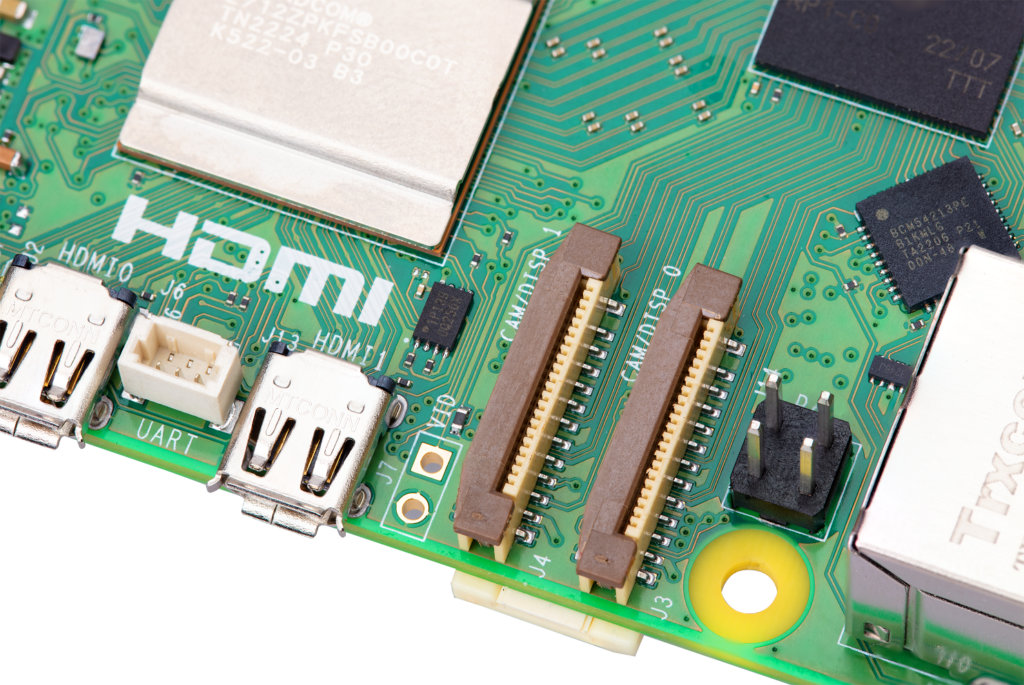 The old FPC display connector space (on the left of the board) now hosts a smaller FPC connector providing a single lane of PCI Express 2.0 connectivity for high-speed peripherals. For this connector, the plan is offering (from early 2024) mechanical adapter boards able to convert this connector to M.2 standard devices, as NVMe SSDs storage for getting bigger and more reliable storage space instead of the classic micro SD card.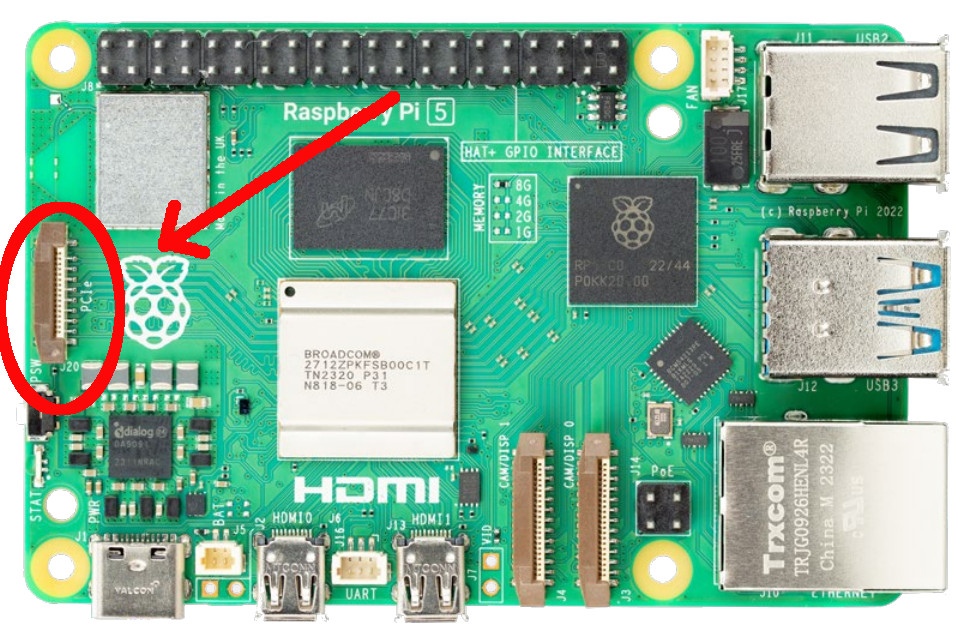 Power Supply
There is news also about the power supply. Even if you can continue using the old 5V-3A, USB-C, power supply, there is a new PS from the Foundation providing a 5V-5A current (still USB-C). The Raspberry PI will be able, from the firmware, to detect the increased input power, so increasing the USB output current limit to 1.6A (providing 5W of extra power for downstream USB devices) and giving 5W of extra on-board power budget.
The foundation specifies that we'll be able to override the current limit even when using a 3A power supply, finding in their tests that the board should work correctly.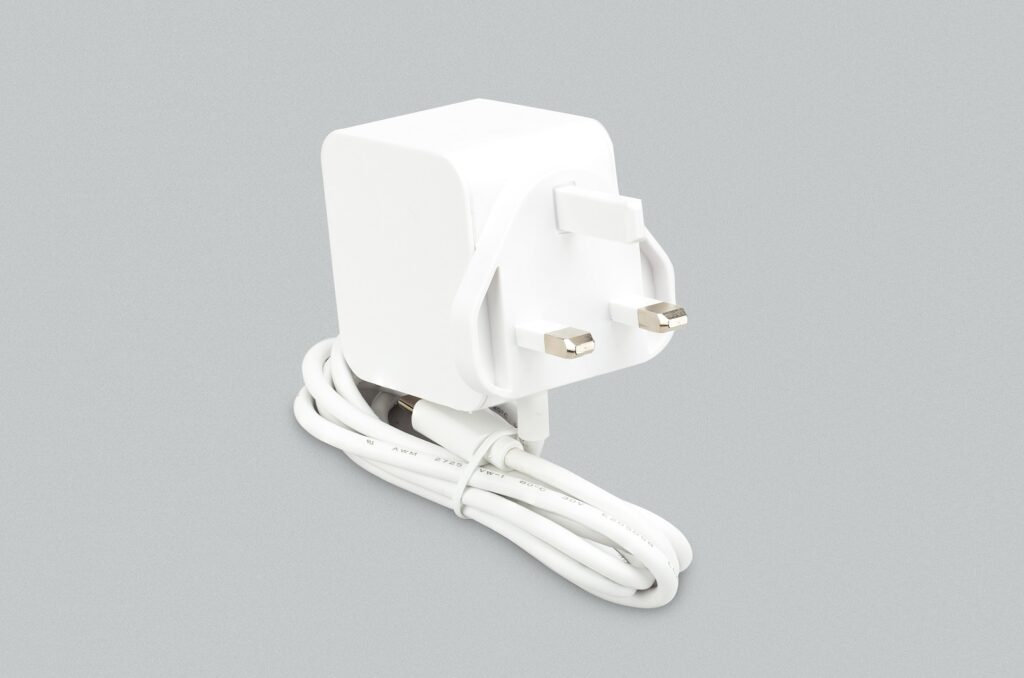 New Operating System
Time passes and even OS releases move on. So, on 10th June 2023 Debian released the new "Bookworm" release, and the Foundation used this new release in order to bring both improvements for older computer boards and the new Raspberry PI 5. The forecast for the new Raspberry PI OS based on Debian Bookworm is to be released in October 2023.
The main change expected here, besides the various enhancements, is the transition from X11 to the Wayfire Wayland compositor.
Where to buy the Raspberry PI 5
The new Raspberry PI 5 will be available to the market by the mid of October 2023. But the Raspberry PI
Ready to use your Raspberry PI Approved Resellers are already offering pre-orders.
Next Steps
Interested in projects to perform with the Raspberry PI 5? Try to look at my Raspberry PI computer tutorial pages.
Enjoy!
We are sorry that this post was not useful for you!
Let us improve this post!
Tell us how we can improve this post?